Availability
If you would like to reserve this cottage, please choose your dates to make an enquiry. We look forward to getting back to you to confirm availability.
Your widget will appear here.
Up to 6 guests Free Wifi 3 beds (1 double, 1 twin, 1 bunk) 1 bathroom
A Cosy Cottage with Views,
Dog Friendly
Oak and Ash holiday cottages mirror each other in size and layout. Each has a double room, a twin room and a bunk bedroom, sleeping up to 6 people comfortably. Clean and modern with plenty of living space and luxury mod cons. A newly-added spacious glass terrace is at the back of each cottage, giving a pleasant outdoor space where you can sit and enjoy the stunning views.
Reserve this Cottage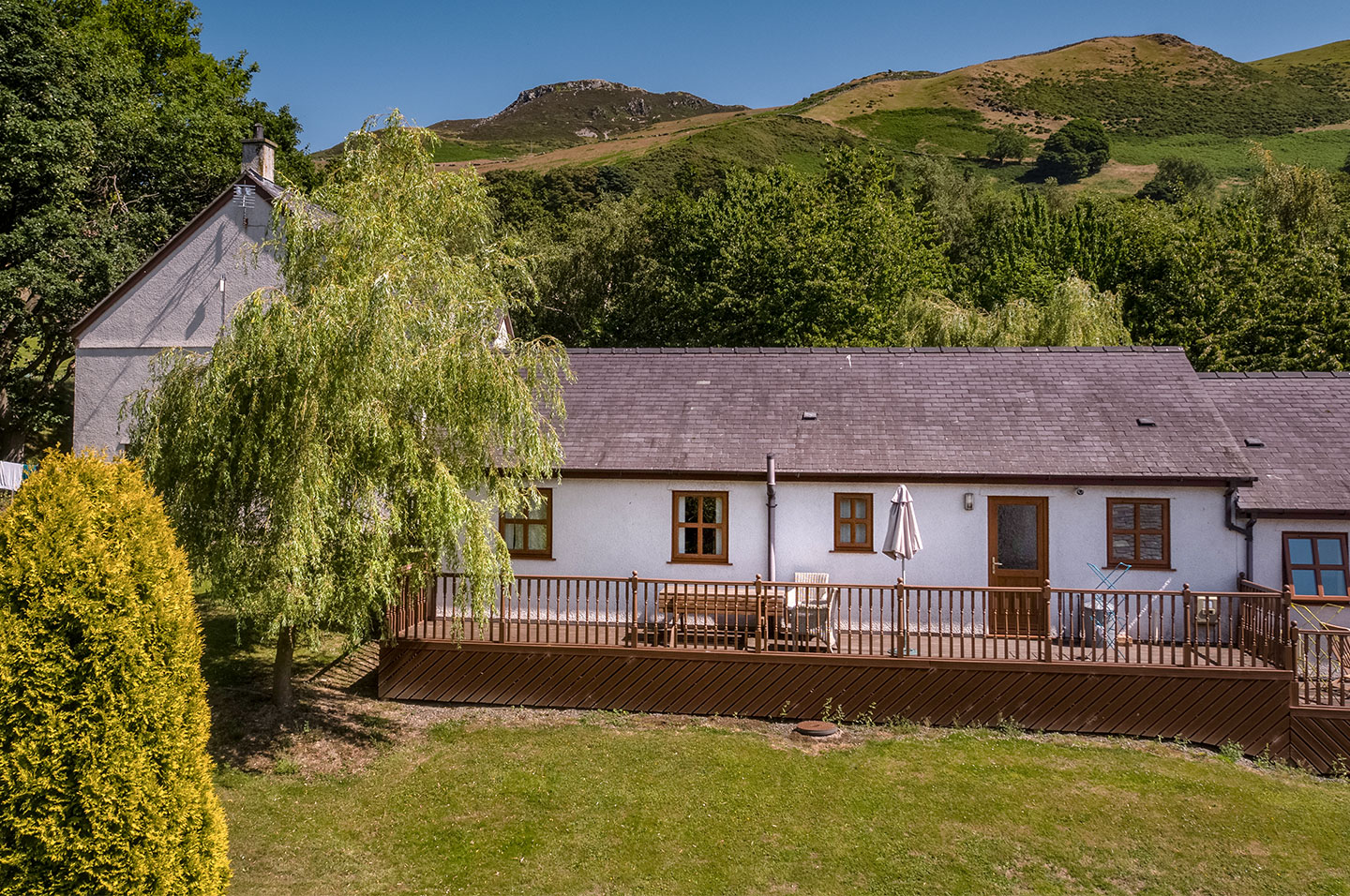 Easy access to towns and beaches
Graiglwyd Holiday Cottages are less than 1 mile to the nearest beach at Penmaenmawr. The town also offers local shops and cafes. A little further will find you in the walled medieval town of Conwy or the seaside haven of Llandudno, both offering a wide range of eateries and attractions.
Dogs Are Welcome
A selection of our cottages welcome well-behaved, friendly dogs by arrangement only. Please just ask us for ideas of stunning local places where you can take your dogs for walks.
Fully equipped kitchens
The kitchen in each holiday cottage includes everything needed for your stay; microwave, full size electric oven and hobs, fridge/freezer, kettle, toaster and all crockery, utensils, cups and glasses.
Private outdoor areas
With such stunning views from our location, we wanted to ensure that each rental cottage has a private outdoor space where visitors can relax and enjoy the tranquility and splendour of the North Wales coast.
Power showers
The bathrooms in all of our holiday cottages feature luxury fittings and power showers in large cubicles. Ty Fynnon Cottage also offers a bath in one of the bathrooms.
Linens provided
Our beds will be fully prepared for your arrival along with fresh towels. We offer optional extra pillows and blankets if required, please just ask.
Free WiFi
For your convenience, free WiFi is available throughout all of the holiday cottages.
Free parking
A car parking space is guaranteed for each cottage. In most cases parking is available right next to your rental cottage. The smaller cottages offer parking only a few steps away from the front doors. There is easy access and lots of room to manoeuvre.
RATES FOR OUR COTTAGES START FROM
High Season
Stunning beach nearby
Luxury self catering
Summer events along the North Wales Coast
Free Wifi and parking
Check Availability
Low Season
Warm and comfortable
Luxury self catering
Central heating and heated towel rails
Winter activities for all interests
Check Availability
Christmas & New Year
Great for family get-togethers
Luxury self catering
Cosy beds with extra blankets
Full-size oven and hobs
Check Availability