Days out and Dining
Some ideas to get you started.
What to do and Where to go
Graiglwyd Springs is ideally located within a short distance of so many attractions, sights and activities that you'll be hard pushed to fit everything in. Not only that but you'll find absolute gems for eating and drinking locally sourced, fresh produce.

Come and stay in one of our delightful anglers cottages, for a short fishing break or why not make it a family holiday in a larger cottage? From only £450 per week you can relax and enjoy all the excitement of this coastal retreat, with Llandudno and historic Conwy just a few minutes away.
Contact James or Debbie to arrange your stay or for a day's fishing. Tel 01492 622338 or email us on graiglwyd_springs@hotmail.co.uk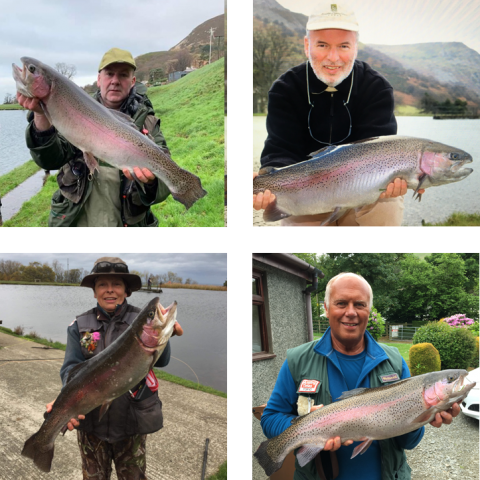 Zip World
Zip World offers out-of-the-ordinary adventures around North Wales in the form of zip lines, toboggan runs, tree top rope walks and giant swings. With three exciting locations in North Wales, it's easy to choose the adventure for you. Take these unusual trips over Wales' slate quarries or forests or travel through centuries old caverns.
World Class Beaches
Graiglwyd Springs Holiday Cottages are less than a mile from the nearest beach at Penmaenmawr – a coastal paradise with vast stretches of sand and just a few amenities for your comfort. For more traditional seaside pastimes, visit Llandudno's two award-winning beaches, with a stunning pier, Punch and Judy show, boat rides and more. Just a little further are the beaches of Anglesey and north west Wales, where simple beauty proves that sometimes less is more.
Adventure Parc Snowdonia
Catch the perfect wave every time in this stunner of a venue. The world's first inland surf lagoon delivers a huge lake with an adjustable electric wave, set against a backdrop of Welsh mountains and forests. Surfing, crash and splash, expert tuition, soft play, refreshments and more.
Local Walks
We offer easy access to the spectacular walks across Snowdonia, The Clwydian Range, and the whole of North Wales. We are also lucky to have rewarding and fascinating walking routes right on our doorstep. Simply step out of your cottage and onto the trails to explore the hills behind us.
Bodnant Garden
Bodnant Garden is one of the most beautiful gardens in the UK, covering some 80 acres and situated above the River Conwy on ground sloping looking west across the valley towards the Snowdonia range. A vast array of gorgeous flowers and plants are available to see all year round, with seasonal highlights coming into their own as the year progresses, including the stunning laburnum arch in May and their autumn Treefest.
Snowdonia National Park
Snowdonia is renowned for its dramatic, panoramic and contrasting scenery. Home to ancient sites, historic castles and hidden treasures, it's also where you can discover inspirational landscapes for all kinds of outdoor activities, or simply recharging the batteries.
Historic Castles
Wales has over 600 castles but arguably some of the most stunning are in North Wales. The castles at Conwy, Caernarfon, Beaumaris and Harlech and their fortifications have been collectively declared a World Heritage Site and are well worth visiting, with events and attractions all year to bring them to life.
Eating out?
While Graiglwyd Holiday Cottages offer everything you need for self catering, sometimes a night out is required. From fresh fish'n'chips at Enoch's to locally made ice-cream at Parisellas and Fortes or the delicious Italian menu at Carlo's, there are plenty of choices within a 15 minute drive from Graiglwyd Springs. Let's not forget stopping for a drink. With top class coffee at Providero or perhaps an all local Forager's Gin from the Snowdonia Distillery, just ask if you wish for more recommendations.